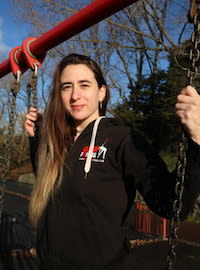 Roz Lindsay
Hi! Im Roz and Im a Level 3 personal trainer with a love for food and hula hooping! My passion for fitness started about 12 years ago when I discovered the effects exercise had on my mental well being. It has now grown and developed into an empowering lifestyle change where I exercise to feel stronger and not focus so much on the aesthetics.
My main mission in this business is to guide people towards a healthier lifestyle, helping them to feel strong and awesome, without feeling like they are restricting the things they love!
In terms of training style, I like to keep things interesting and challenging with functional training and conditioning workouts. In the summer time I love to take things outdoors with my hula hoop. Always fun and sweaty!