Mum & Baby Classes Enrolling Now In Blackheath! Secure Your Spot For This Life-Changing Programme!

Nobody puts Baby in a corner. Except on Tuesdays at 9:30, Fridays at 11:00, and… well, you get the picture. But this isn't just any corner, it's a Baby Sensory Zone replete with baby disco, jumparoo and other delights to entertain and enthral. Why? Whilst your baby's attention is taken care of, you can get the attention you deserve. In our Mum and Baby group classes, we focus on you. With a maximum group size of 6, this really is your hour to shine.

It doesn't matter if you are just starting your fitness journey or returning to training. This isn't about getting back to "old" you. We like to look forward at Burn It. This is about focusing on a brand new you. Let's make your baby the reason, not the excuse.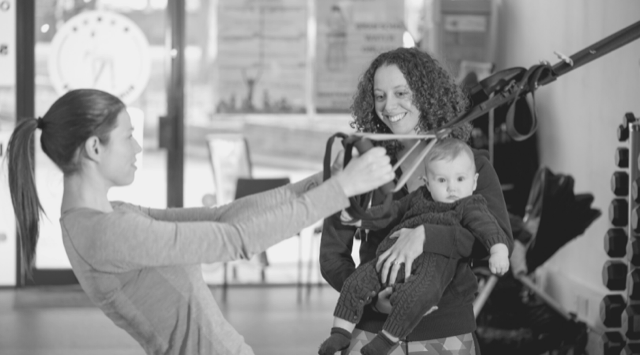 Life isn't always simple. We understand the challenges that come with looking after a little one and have focused our post-natal Mum and Baby classes on the things that really matter:

Arms, Back and Legs: Strengthening those areas that help with the everyday - the picking up, the changing and the chasing.
Core Repair and Pelvic Floor: Our sessions are chocked full of purposeful movement that is at just the right tempo for your body, enabling you to restore and strengthen at your pace.
Cardiovascular Fitness and Fat Burning: Getting in to the nitty gritty, we make sure we put you through your paces to get the results you crave, and the energy you need.

Here's some of the other benefits our Mums swear by:

Specific post-natal exercises




No childcare required (Plus our trainers may be partial to a baby cuddle or two)




More energy, meaning you're able to handle the demands of the day




You're all in the same boat!




Body adaptability: relieving aches and stiffness and helping your body to work in a more effective way



Warning: You may make new fitness friends. Post workout coffee and armchairs are available.