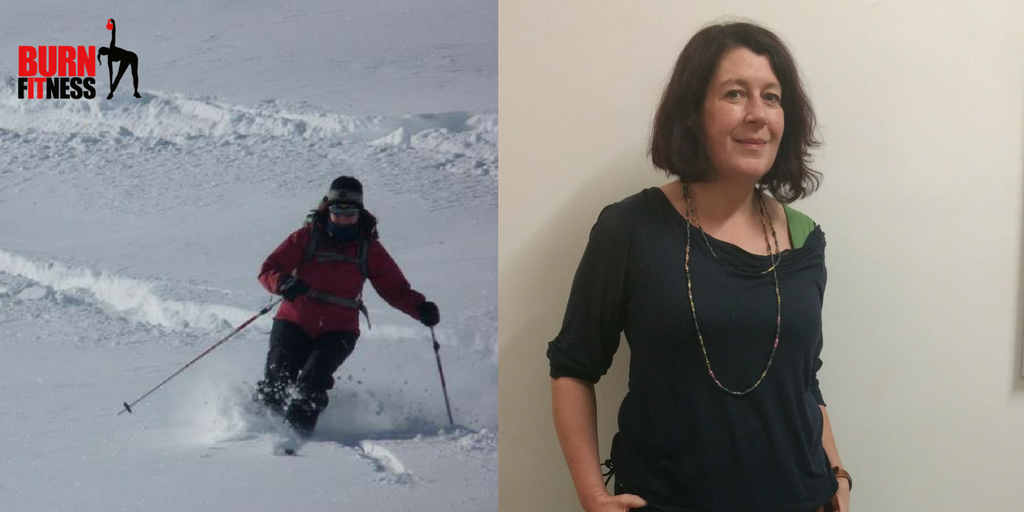 Olwen has lost 10% of her body weight over winter, starting at 86 kg and is now down to 77kg.
What was your reason for starting training?
I'm a relatively active dog owner, cycled locally, watched my diet but I kept getting heavier. I needed an alternative to the pub after work. I wanted to cut my weight and alcohol intake. I knew Burn It to be a welcoming and fun group, so once back in Greenwich joining up was a 'no brainer'.
How did you feel back then?
I regretted losing fitness, the weight gain and it was a struggle to get my knees near my elbows! I felt silly as I had previously been fit and all the exercises felt really difficult. I felt tearful a few times! I was often lost in classes, but was carried by the good vibes of the group.
Why did you want to make changes and how are you feeling now?
I knew I would be happier and have an easier daily life with regular high intensity exercise. I had just given up a stable career, retrained and started a new job, in a team with an average age 15 - 20 years younger than me. We work in an old building with really steep stairs; I wanted to be able to talk while walking up 4 flights!
Now I feel leaner and don't notice hills or get out of breath much (except at Burn It). My outlook is more positive than 6 months ago, setbacks are still frequent but surmountable. Instead of dwelling on the tough times I go to a class, generally have a laugh and forget it.
What has motivated you to build on previous successes?
Getting fitter and losing weight is a long, gradual journey, so I appreciated small changes and improvements and keep telling myself I've done great just turning up. The BurnIt structure of measurement e.g. start/ end of bootcamp and 1-2-1 fitness reviews makes the progress real. I had a bad month or two, as everyone does, but it was easy to get back on track as both the Trainers and Burners only say positive things. This has been a lovely bubble of encouragement and smiles through a very challenging year.
The Burn It Fitness September and January Intensity Bootcamps gave me a plan to follow and it worked both times! I planned a ski trip in February, then loved feeling stronger so much that I booked to go back in April, with the goal of losing more so I'd get in my favourite ski pants!!! My daughter demanded on day 2, that we take it easier whereas 2 years ago she was bored at my lack of adventure.
What challenges have you faced this time?
Getting to 'enough' classes to keep improving is hard at times, even though I only have myself, work and the dog to plan for these days. Long term knee pain (old injuries and early onset osteoarthritis) means I have to pace myself and ask for adjustments in classes.
3 top tips getting to where I am now
1 - Talk to the trainers and Burn It members, arrange to see them at classes or for a review and copy what the long term members do.
2- Plan classes and rest days at the start of each week, so turning out is routine.
3 - Set short term achievable goals and reward yourself for sticking at it. Make it easy and be kind to yourself!
What would you say to a member feeling how you did but looking to commit to Burn It Fitness?
Do it, do it ,do it !!! Give it a month, ask the trainers for help when it is hard, lean on other members for encouragement, accept it is tough and tell yourself you are fantastic for making a change. You really will laugh through the effort and see results beyond what you can achieve on your own!