Tailored Group Personal Training in Blackheath! Get Fitter, Stronger, Feel More Energised & Confident
Group Personal Training sessions take place at our brand new studio in Blackheath or we have online sessions available too.

Love the idea of Personal Training but don't want to go it alone? Fancy the camaraderie of training in a small group? Are you the quiet one who turns out to be secretly competitive? Whatever your motivation, our Group Personal Training sessions focus on keeping you committed and getting results.

Either training at our Blackheath studio or online with a maximum group of 4 people, you'll work at your level, through your own personal set of exercises each week. Our programme works on an 8-week cycle and is driven by you. Tell us your goals and aspirations and our wizard trainers will conjure up a sparkly programme that's all yours.

So, what's the gist? We have recently moved to a brand new studio in Blackheath which has been brought right up to speed with strict COVID-19 protocols in place to ensure you can exercise safely in a super clean environment. Each member will have their own 'training pod' marked out into zones in the studio. Within each zone you will have access to all the equipment you will need for the session, ensuring that kit is cleaned and not shared for your sessions. In your training pods you will work every part of the body. For half of the session you'll power through your bespoke programme, building strength and improving balance and agility. The other half incorporates a variety of exercises, based on a different theme each week, really pushing you to increase that cardiovascular fitness.
And the outcome? Joining Group PT for 1 or 2 sessions every week means you will see progress in every area.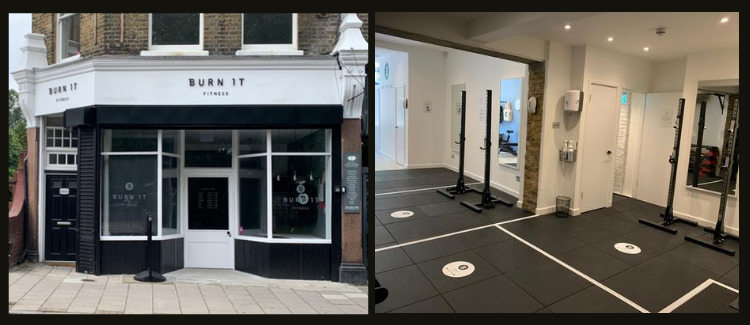 We run sessions 7 days a week either at the studio or online between 6 AM and 8 PM on weekdays and between 7 AM and 2 PM on the weekend. The sessions are pre-booked creating accountability, something our members stand by as key to their consistent training.

"Do I have to find 3 friends to train with?"
No, fitness friends are provided.

"Are the group working at the same level?"
No, we welcome, nay, encourage all levels!
We're serious about exercise, we're serious about fun, but most of all we love serious results. We're serious about exercise, we're serious about fun, but most of all we love serious results. Why not chat to us or have a look at what our members say about Group Personal Training here.
You never know, you may find that one thing you didn't even know was missing.